Benjamin Franklin said, "An ounce of prevention is worth a pound of cure." This is particularly true for your roof. Minor roof repairs could save homeowners a bundle by maintaining their roof in its best condition, helping it to last, and ultimately delaying the need for a total roof replacement.
​
Repair or Replace?
You must consider the age of your current roof, the condition of all roofing components, and whether you plan to sell your house in the near future.
​
Leaky Roof Overview
Many different areas on your roof can cause leaks, from flashing and skylights to old shingles. Address leaks right away to avoid mold and interior water damage. Water in your attic can pose a fire hazard and waste energy as insulation becomes saturated. Your roof and your home can suffer major structural damage if left unchecked.
​
If you have water stains that extend across ceilings or run down walls, the cause is probably a leaky roof. ​If you have a leaky roof, it is best to fix it immediately because even during a short amount of time, small leaks can lead to big problems, such as mold, rotted framing and sheathing, destroyed insulation and damaged ceilings.
How to Find Roof Leaks
If you have attic access, the easiest way to track down a leak is to go up with a flashlight and look for the evidence. There will be water stains, black marks or mold.
​
Some roof leaks are tough to locate. Sometimes the water shows up at a ceiling spot distant from the leak.
​
If your roof leaks during the snowy part of winter and during storms in the summer, it is most certainly due to poor flashing. The soffit that meets the roof is one of the toughest areas to waterproof. Eventually, water pools behind the dam and works its way back up under the shingles and under the soffit until it finds an opening through the roof.
​
Step flashing is used along walls that intersect the roof. Each short section of flashing channels water over the shingle downhill from it. But if the flashing rusts through, or a piece comes loose, water will run right behind it, and into your house.
Also check for leaks around brick chimneys where all kinds of problems can exist. Flashing around chimneys can rust through if it's galvanized steel, especially at the 90-degree bend at the bottom.
​
Storm Damage
Hail and high winds can wreak havoc with your roofing system. Look for signs of storm damage once the weather calms down. Check for missing shingles, fascia and the condition of exhaust pipes, valleys and outer edges. Also inspect your attic for leaks.
​
Hail damage commonly shows as dimples in shingles or granules in the gutters; however, not all hail damage is obvious as it may just weaken your roof structure and cause a leak later. Older roofs are more susceptible.
​
Surge Roofing will work directly with your homeowners insurance from filing the claim to making sure the adjuster quotes the proper estimate.
​
​
​
​
​
​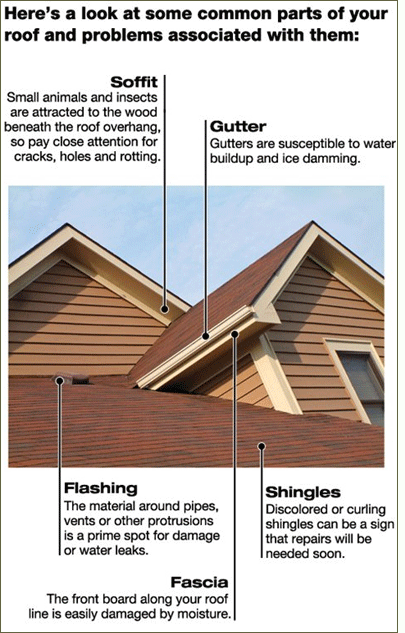 * ROOF REPAIR SPECIAL *
$99 Roof Tune Up
Includes multi-point visual inspection of roof and siliconing all exposed nail heads, securing loose shingles, and checking flashing -- all performed by our professional roofers